We had a great time at a birthday cookout for one of our great friends.  Evan enjoyed playing and had a great time exploring the beautiful land their home is on.  It was a little chilly, but everyone had a blast.  We absolutely cherish the time that we get to spend with our family and friends.  It's a continual reminder of all of the love that has been placed in our life.
Evan has been changing every single day.  Not necessarily big things, but the little things that make Alex and I smile and feel incredibly blessed.  He is saying new words every single day and "parrots" continually.  He is starting to call people by name and really make the connection with who they are.  It's so fun.  One of these little things that seems tiny to anyone else, but I think is so neat are his new favorite snacks.  We tried these applesauce pouches several weeks ago and it was an epic fail – this week, he can't get enough.  Who invented these things? They are genius, I tell you.  Absolutely genius.  I love these things so much you can anticipate an entire post devoted to "the pouch" coming soon.
Saturday was such a good day!  We spent the morning at home catching up on laundry and having some family time.  We played, and cuddled, and played, and cuddled – perfect perfect morning.
In the evening we had a chance to visit with some family and attend church together.  We went to the park and played and played and played.  It was so incredibly hot outside that we didn't get to stay too long.  Here is Evan post park – his little cheeks were so flushed.  Evan is a pretty perfect mix of Alex and I, but I'm afraid he took after me in that area. :/ Sorry, little dude!
We ended up detouring from the meal plan quite a bit last week due to unanticipated appointments and places we needed to be, so you will see a lot of those meals recycled into this week's plan.  What's on your plan this week?  We love being inspired by your favorites!
Sunday:  Cookout with the family
Monday:  Dinner at church event

Tuesday:  Crock Pot Italian Chicken with whole wheat pasta
Wednesday:  Leftovers
Thursday:  Lettuce Wraps
Friday:  hoping for a Date Night
Saturday:  Lunch – Sandwiches & Salad, Dinner – Homemade Spaghetti Sauce with whole wheat pasta
I am linking up my meal plan this week with The How to Mommy and Finding Hope for Meal Planning Monday.  Talk about a great weekly source of meal ideas.  If you are working on your meal plan or brainstorming ideas for the future, make sure to check out this link up!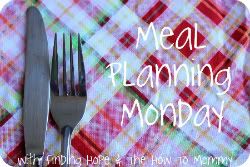 elizabeth.
thank you for stopping by! if you like what you see, we also appreciate your vote!
You might also like: