This isn't the typical Week in Review post, because it is going to take much more than that to sum up the past week.  We went on VACATION! It was fabulous.  So many incredible moments and precious memories made.  June is a bit of a crazy month for our family and this is the only week that we will all be in town together.  Next week Alex leaves for a trip to Haiti and then the following week I am gone to California for work. So, in an effort to have a week of normalcy before the rest of the month sets in I wanted to make sure our meal plan was in order!
Monday:  BBQ Turkey Joes

Tuesday:  Taco Tuesday!

Wednesday: Leftovers

Thursday: Grilled chicken and veggies

Friday: Family Night!! Homemade Pizza

Saturday: Spaghetti
I'm linking up once again with The How to Mommy and Finding Hope! Go check out the links and get some inspiration for your meal plan!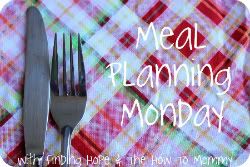 elizabeth.
thank you for stopping by! if you like what you see, we also appreciate your vote!
You might also like: