This week I have been reminded continually through different people and different moments that the future is a scary thing.  I am a planner – I want to know what's coming – I want to anticipate it – I want to be ready.  Unfortunately, the majority of the time the future doesn't really work that way.  When we look forward we can often see a blurry picture of what's to come, but in no way can we fully see it.  I am slowly, and painfully at times, learning the beauty in that.  See, God designed it this way for a reason.  He knows my limitations even better than I do – He created me.  And He knows that in most cases I couldn't, nor should I be able to, handle seeing the whole picture.
This year I am working my way through Jesus Calling by Sarah Young.  It offers short daily devotions that are the perfect way to jump start the morning.  Yesterday's reading really made sense to me and I have been pondering it and meditating on it since then.  She was discussing Deuteronomy 29:29 and she writes
Secret things belong to the Lord, and future things are secret things. When you try to figure out the future, you are grasping at things that are Mine.
Mind. Blown.
Seriously – I have never thought about the future in this context.  She goes on to talk about our worry being an act of rebellion as we are refusing to trust God with these parts of our life.  I know that I would never intentionally do that, but it's exactly what I do when I spend my days worrying about the future instead of laying it down in His hands.
I think this that one of the reasons that this is hitting so close to home for me right now is that I am surrounded in uncertainty.  Pregnancy is full of unknowns.  When will the baby arrive? How will the baby arrive? Was that a contraction? Is everything okay? Is it normal to feel this way? … the list truly goes on and on.  I try to make preparations at work and at home, but you can only do so much because you really don't know when this child will choose to join the outside world. It's daunting and unsettling and frustrating sometimes – and I find myself praying "God – just show me…just tell me…are you sure you've got this? Are you sure everything is going to be okay??"  And it's in those moments that doubt creeps in and my fears about the future and the unknowns have to be controlled – because He does know, and He does have it all worked out.  This is His thing – His secret thing – and it will be revealed at the perfect time.
Now, don't get me wrong – this isn't a free pass to not plan for the future.  I believe that we should be doing everything we can to make sure that we are financially, physically, and emotionally in a good place as we look forward.  What I am talking about tonight is the fear of the future.  The paralyzing feeling that keeps you from enjoying the beauty that surrounds you today because you are so fixated on what might happen tomorrow.  Let it go – it's not yours to worry about.
So, today, I choose to rest knowing that my precious son is sleeping in his bed, my little girl is growing and moving on the inside, and my incredible husband is sitting beside me.  I choose to lay down knowing that God willing we will be waking up tomorrow and facing another day and we will know exactly what we need to know at the appointed time.
How do you deal with the unknowns of the future?  Have you thought about the future as a secret thing that belongs to God?

After almost a year of not blogging and trying to figure out how to just "do life" we are officially re-launching Our Life.  I am so excited!
For the past six weeks or so I have been itching to write again and looking for an outlet.  When Alex and I started this blog, it was to document our pregnancy and birth experiences and truly share our life with our sweet friends and family.  As the blog began to grow I got a little hung up on making sure that everything I shared was "monumental" and forgot to share the fun and quirky details that truly make up our day to day life.  What I have discovered – I still want to share how Evan is growing and all the funny things he is doing.  I still want to share some of our favorite products and recipes.  I still want to share about the encouraging moments and the difficult days.  Just as each day of our lives are filled with these things, so is this blog. You may never know what to expect, but you can know that it will be real, it will be genuine, and it will be "us."
So, here we are – back again – and ready to share Our Life with you.  But that's not all – because our life is changing – QUICKLY!!
Yep – that's right.  Our sweet baby girl is scheduled to make her appearance in about 8 weeks!!  We are so excited!  My plan is to take some time to go back and share parts of this pregnancy journey here over the next 8 weeks.  I have missed recording the milestones of this pregnancy and I want to make sure they are all here to remember as our family grows.
Evan is growing and growing…and then growing some more.  He is still a little guy – not too high on the growth charts, but trust me – he is growing too fast!!  He is changing so much every day – it's unbelievable.  He is running, climbing, and talking non stop.  He is so silly and playful.  He love love loves Toy Story and Finding Nemo.  We have a collection of Toy Story characters that make their way back and forth between his room and the living room each day between morning and bedtime.  He just likes to have them wherever he is.  He has recently transitioned to a toddler bed so that the crib can be used for little sister.  He loves his bed.  Between the freedom that it gives him and the novelty of it, he just can't get enough of it.  Everyone that comes over has to go and see "MY BED!"
So, welcome back to Our Life. It is quickly changing, incredibly fun, and usually messy – but it's ours – and we are excited to share it with you.
I have a problem. Somehow the universe has conspired to slip HALF A YEAR past me without my knowledge. Somehow I woke up last week to the beginning of JULY. This month not only splits the year down the middle, but also means half of the summer has past us by. How did this happen?!
It bothered me a little when I realized how quickly the year has past. There are still so many things that I want to do this year. Let's revisit our summer to-do list.
1. Beach trip!!
2. Attend a baseball game
3. Visit the zoo
4. Go white water rafting
5. Visit an amusement park
6. Go swimming
7. Hike in the mountains
8. Go to an outdoor concert
9. Picnic and play at the park
10. Visit the aquarium
5 down, 5 to go!!  I have some catch up to do to update you on all of the things we have already checked off our list.  But in the meantime, here are a few summer photos of sweet Evan.
(It's been a while since we have featured a Wordless Wednesday post, but today is the day! Since Alex is traveling this week, he is on our minds constantly!! So – here it is – the Wordless Wednesday Daddy edition.
)
One of my favorite things about this blog is that in many ways it serves as a "virtual baby book" for our sweet Evan.  It documents our family and is something that we can look back on throughout his life.  The other purposes of the blog may shift a bit as time passes, but through it all I want this to tell our story – his story.
So, let me tell you about the sweetest words I have ever heard.  Let's get one thing straight up front – Evan loves his daddy.  They have such a special relationship – the joy that I have when I watch them together is unrivaled.  For many months Evan has rattled off the word "daddy."  Even before he fully understood what it meant, it was one of his very favorite sounds to make/things to say.  It quickly became clear that he was not so fond of saying mommy.  Our conversations would go something like this…
Us: "Evan, say 'daddy'"
Evan:  "Daddy!"
Us: "Yay! Okay, Evan, say 'mommy'"
Evan: "Daddy!!"
It was pretty hilarious – even I can admit that.  I finally stopped asking him to say it.  I knew that he would when he felt like it.
I wish I could remember the day, the moment, that I heard my new favorite word.  The sweetest word.
"ommy"
Forget about that first letter – he doesn't need it.  I wouldn't have it any other way.  He walks around calling for "daddy" and "ommy" now.  If you are questioning the cuteness – just stop – I mean, have you seen this precious being?
I get sad when I realize that one day he will stop saying it.  It's one of those 'lasts' – the things that slip away and happen for the last time unannounced.  There is no fanfare, not even a realization – they just stop happening.  So, I will take my sweet boy and his sweet words and make the most of each and every moment.
Because you know what?  I love being his ommy.
This isn't the typical Week in Review post, because it is going to take much more than that to sum up the past week.  We went on VACATION! It was fabulous.  So many incredible moments and precious memories made.  June is a bit of a crazy month for our family and this is the only week that we will all be in town together.  Next week Alex leaves for a trip to Haiti and then the following week I am gone to California for work. So, in an effort to have a week of normalcy before the rest of the month sets in I wanted to make sure our meal plan was in order!
Monday:  BBQ Turkey Joes

Tuesday:  Taco Tuesday!

Wednesday: Leftovers

Thursday: Grilled chicken and veggies

Friday: Family Night!! Homemade Pizza

Saturday: Spaghetti
I'm linking up once again with The How to Mommy and Finding Hope! Go check out the links and get some inspiration for your meal plan!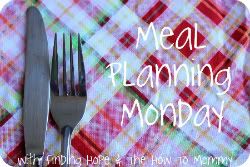 In the 7 years that Alex and I have been married, we have lived in 7 homes.  Ridiculous, right?!  We moved to our most recent residence in January of this year.  We moved for many reasons, but ultimately we needed some more space and really wanted to live a little closer to work and everything in our little town.  We love our new townhouse and it's close proximity to almost everything.  In our minds, we intend to stay here for a while, but, given our track record, I wouldn't put any money on it!
I really want to put some time into the way that we decorate and organize our space.  Right now we are getting by, but there is so much more that I would like to do.  Our first big project is putting something on the wall in the living room above the television area.  My goal is to have some canvas prints there that will showcase some of our favorite photos, but also add a creative, decorative element to the room.  So, of course, my first stop was Pinterest!  Here are some the ideas that I have stumbled on so far.
credit: MartaWrites.com
credit:  4 Men 1 Lady
What do you think?  At this point I'm not even sure if I want to go with color or black & white photos.  We desperately need to make some decisions!  I really want to get these ordered so that we can make some progress!!
Mother's Day has come and gone. Two years ago I found out that I was pregnant with Evan on Mother's Day weekend. This was shortly after our first loss. I remember spending the day so very hopeful, but also so very scared. We had not announced the pregnancy to anyone yet, so we celebrated the sweet life that was making us parents quietly with knowing smiles and glances across the room. Last year, Evan had arrived and I was so full of joy and amazement at the fact that I was a mom! It was such an odd, but welcome, feeling. We celebrated with each of our families and then slipped away to the park to have a special picnic with the three of us – it was such a special day. This year we were so blessed to have all of our family at our house. The weather didn't really cooperate, and I was quite sick, but regardless, Alex grilled in the rain and we all enjoyed eating together and celebrating one another.
One of the sweetest moments of my day was opening my gift from Evan. Alex had helped him paint a bouquet of flowers on a canvas – it was absolutely perfect.
Along with this sweet gift, Alex gave me a collage of photos and the Fitbit – which I had talked about in my Mother's Day gift guide!! I am going to use it for a week or two and then I will give you guys a run down on my feelings about it. So far, I think it's pretty awesome! (For example – I woke up today feeling like I did not rest well – I checked the FitBit sleep log and realized that I had woken 10 times during the night – that might have something to do with it!!)
How was your Mother's Day?  Did you do anything special to celebrate?
1.  Pulse digital photo frame from Kodak
2.  Personalized iPhone case from Erin Condren*
3.  Casual Cargo Purse from Thirty One
4.  Fitbit
5.  Personalized locket from Origami Owl
6.  Ballet flats from TOMS shoes
*products that I own and highly recommend
Happy Mother's Day!!
 Evan went to the doctor for his 15 month check up.  Everything looked great and we got a good report from the doctor.  Evan weighed in at 21 lbs, 4 oz (9%) and 31.25 inches (50%).  He's a little guy, but he is sticking to a curve and growing.
  He was not a fan of the doctor's office.  Anytime a nurse or the doctor got close to him with any kind of instrument he totally freaked out.  He crashed after his appointment and ended up missing his final Kindermusik class.
We head to the beach in less than a month!! I don't know how this trip has suddenly snuck up on us, but the realization that it requires a bathing suit kind of made me nauseous this week.  SO, in response, my friend and I started INSANITY.  If you aren't familiar with this workout program, I highly recommend that you don't ask questions and run in the other direction.
  It's actually an incredible workout, but it lives up to it's name.  More about that coming soon.
Alex and I celebrated
12 years as a couple
with a date night out.  We went to dinner and a movie.  It was so nice to be able to spend a night together and just have unlimited time to talk.  I am pushing for more frequent date nights!! They are so special!
Evan was in his true form for our date night sitter.  Here is the awesome picture she sent us while we were at dinner of Evan being silly (aka normal life). haha
This week looks like a lot of meals out or at various events.  I guess it's just not really meant to be a cooking week.  We have a few meals thrown in there though!
Sunday:  Cookout with our college outreach group
Monday:  Dinner at church event

Tuesday:  BBQ Turkey Joes 
Wednesday:  Leftovers
Thursday:  Lettuce Wraps
Friday:  my Mom's birthday!
Saturday:  Lunch – Sandwiches & Salad, Dinner – Homemade Pizza
I am linking up my meal plan this week with The How to Mommy and Finding Hope for Meal Planning Monday.  Talk about a great weekly source of meal ideas.  If you are working on your meal plan or brainstorming ideas for the future, make sure to check out this link up!